Details
Publication date

3 November 2020

Author
Description
As made clear in 2nd AI WATCH Peer Learning Workshop on 'AI in a pandemic society', there is still very little knowledge about the use and the consequences of using AI in the public sector. There is a strong research focus of AI developments in the private sector, but the public sector is often out of scope. However, the public sector has a great role to play in the digital transformation of our societies. With regards to AI, already four different roles are identified:
 Government as a facilitator, acting as a source of funding or other support to stimulate AI development and adoption in their societies.
Government as a regulator, establishing regulatory frameworks to minimize the potential risks of AI
Government as a user, in which they use AI in the government to improve public services, policymaking and internal operations
Government as a developer, where they are developing in-house AI solutions.
However, the policy discourse, often highlights only the role of the government as a regulator or facilitator. The roles of user and developer of AI technologies are frequently left out or do not enjoy the same amount of interest and investments. That is, however changing, as the recent consultation held on the EU AI white paper revealed: many respondents considered the promotion of AI adoption by the public sector as very important for ensuring an 'ecosystem of excellence' within the EU.
Thus, the research activities will continue by:
i) Updating the overview of the use of AI in public services, by making the inventory of use cases more robust, structured and diverse. In addition, more in-depth case studies will be held on some of these initiatives;
ii) Continuing development on proposal of a methodological approach to assess the social and economic impact of AI in public services;
iii) Designing a roadmap for AI in the public services, with guidelines and an implementation roadmap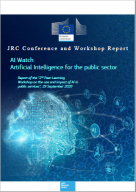 Files