Details
Publication date

26 January 2021

Author
Topic area

Health
Description
This policy brief addresses the question of what it takes for Europe to become a global leader in AI in health.
First, it analyses Europe's position in the global AI in health innovation and economic landscape.
Then, it identifies main challenges that Europe needs to address in order to leverage the strength of its health sector with AI. In addition to supporting technology commercialisation, ensuring the security and integrity of the European Health Data Space, investing in education and training, ensuring regulatory compliance, it needs to pay attention to social and ethical concerns.
The document concludes by outlining a set of actions that Europe needs to take to shape the direction of AI in health and to increase its chances of becoming a global leader in this domain.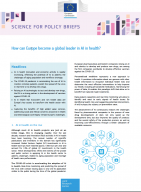 Files