Details
Publication date

17 December 2020

Author
Topic area

Health
Description
The report recognises that we are still at an early stage in the adoption of AI in health: in the short term, AI offers many opportunities for improved efficiency in administrative and operational processes and, in the medium-long term, for clinical applications and patients' care.
In the global context, Europe is well positioned with a strong research base and excellent health data, which is the prerequisite for the development of beneficial AI applications. Where Europe is less well placed is in translating research and innovation into industrial applications and in venture capital funding able to support innovative companies to set themselves up and scale up once successful. There are however noticeable exception as the case of the BioNTech that is leading the development of one of the COVID-19 vaccines. It should also be noted that in AI-enabled health startups, many of them are in the area of drug discovery, e.g. the domain of BioNTech.
Lastly, investment in education and training of the healthcare workforce as well as creating environments for multidisciplinary exchange of knowledge between software developers and health practitioners are other key areas.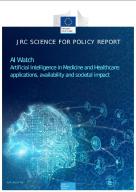 Files
Artificial Intelligence in Medicine and Healthcare: applications, availability and societal impact
English
Download