Details
Publication date

1 September 2021

Author
Description
A European-centred approach to AI is essential to make the most of the opportunities from this transformation and to address its challenges. The recently published 2021 review of the Coordinated Plan on AI sets concrete proposals and recommendations for further joint actions between the EU and Member States in order to strengthen EU's competitiveness in the global AI landscape.

The review of national strategies is one of the tasks of AI Watch launched by the European Commission to support the implementation of the Coordinated Plan on AI. Building on the 2020 AI Watch review of national strategies, this report presents an updated review of national AI strategies from the EU Member States, Norway and Switzerland.

By June 2021, 20 Member States and Norway have published their national AI strategies, while 7 Member States are in the final drafting phase. Since the 2020 release of the AI Watch report, additional Member States - i.e. Bulgaria, Hungary, Poland, Slovenia, and Spain - published their strategies, while Cyprus, Finland and Germany have revised their initial strategies.

This report provides an overview of national AI policies according to the following policy areas: Human capital, From the lab to the market, Networking, Regulation, and Infrastructure. It also includes a section on AI policies to address societal challenges of the COVID-19 pandemic and climate change.
Details on JRC Publications Repository 
Launch webinar
The report was launched and discussed at the online webinar, National AI strategies in Europe, co-organised by the European Commission and the OECD in June 2021.
Individual country reports
The individual country reports are available on the countries section of the site.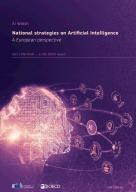 Files
AI Watch - National strategies on Artificial Intelligence: A European perspective, 2021 edition
English
Download