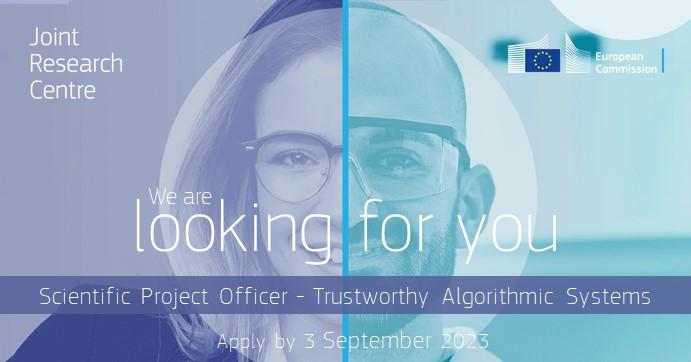 The Joint Research Centre (JRC) is looking to incorporate two Scientific Project Officers on Trustworthy Algorithmic Systems to join the HUMAINT (Human Behaviour and Machine Intelligence) project within the Algorithmic Transparency Unit.
HUMAINT aims to:
advance the scientific understanding of machine and human intelligence;
study the societal and ethical impact of algorithms;
define methodologies for trustworthy AI, and provide scientific contributions to EU AI policies, mainly the AI Act and the Digital Services Act and ECAT.
This position includes working at the intersection between scientific research and policy-making, as part of an interdisciplinary and multicultural team of applied researchers.
Candidate requirements
We are looking for two researchers with a keen interest in supporting EU digital policies and the following experience/skills:
A PhD (doctoral Diploma) or a university degree (if combined with at least 2 years relevant research) in the field of artificial intelligence, ideally with a focus on trustworthy AI.
Very good (C1) knowledge of English.
Any of the following skills and experience would be desirable:
Research track record demonstrated by scientific publications in the area of algorithmic systems, ideally related to trustworthy AI, addressing concerns such as fairness, transparency, explainability, human oversight and impact.
Practical experience on recommender systems and machine learning, and its evaluation from a system-centric and/or user-centric perspective.
Experience working within interdisciplinary teams, following reproducibility practices and leading community initiatives.
The successful candidate's main tasks may include, among others:
Research on transparency, fairness and accountability of AI and algorithmic systems;
Collecting, processing and analysing data from various sources to assess the opportunities, risks and societal impact of AI and algorithms, including considerations around foundation models and general AI;
Defining methodologies for the documentation, evaluation and auditing of algorithmic systems;
Providing evidence to support the implementation and enforcement of the AI Act and Digital Services Act for which ECAT provides scientific and technical support, and other EU AI policies.
Working conditions
‍Type of contract: Contractual Agent, Function Group IV (article 3b of the Conditions of Employment of Other Servants)
‍Number of vacancies available: 2
Duration of contract: 36 months (renewable up to maximum 6 years)
‍Place of employment: Seville (ES) or Ispra (IT)
How to apply
Visit the JRC External Staff Recruitment Application website, and apply for the vacancy with the code 2023-SVQ-T3-FGIV-023476 – SEVILLE.
You will be requested to register through EU login. If you don't have a EU login account, sign up here. 
If you are already on a valid CAST FG IV reserve list, or you have already applied to one of the calls below, you can directly submit your application at: http://recruitment.jrc.ec.europa.eu/?type=AX.
If not, before applying to this position, you must register for one of the two following:
APPLICATION DEADLINE: 03/09/2023 23:59 Brussels time
Details
Publication date

4 July 2023

Author